Most of you know Apple has recently launched their flagship smartphone iPhone 6S and iPhone 6S Plus, and It features the Apple's latest smartphone chip inside called Apple A9. Normally Apple lets the other manufacturers to manufacture their SoC's, for e.g. in 2013 Samsung manufactured Apple's A7 for iPhone 5S and in 2014 TSMC manufactured Apple's A8 chip for iPhone 6. However in 2015 Apple has decided to use both manufacturers to manufacture their latest A9 chip to minimize their dependency on one manufacturer. By this time Samsung has already started manufacturing 14nm chips for their own smartphones so they decided manufacture this Apple A9 under 14nm, on the other hand TSMC has made the Apple's A9 chip under 16nm.
In general terms smaller the nm better the performance and more efficient right? Yes, so Samsung should perform better right? Yes, but unfortunately Samsung's chip doesn't perform as expected. Few days after the release of this iPhone 6S and 6S Plus, geeks and bloggers have started test these two variants and found out that Samsung Chip based phone has less battery life and heats more. After this incident Apple has officially stated that those two model have minor differences but it will effect only 2-3% of the battery life. However, results show big differences between these two models.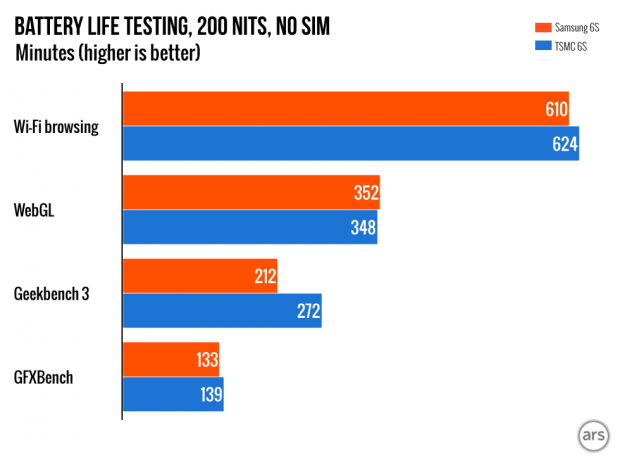 As you can see in this picture, ARS Technica website did some tests using (two iPhone 6S models) some benchmark tools. According to them if you use more CPU intensive apps TSMC version iPhone will give you 28% more battery life than the Samsung version. and at the same time Forbes writer Ewan Spence mentioned "Third party tests by AnTuTu, GeekBench, and MyDrivers showed that under high loads that demanded ultimate performance, the TSMC-powered iPhone was offering up to two hours more battery life than the similarly set up Samsung-powered iPhones."
If you are planning to buy a new iPhone, and if this problem is a concern, then you can check the model by installing Lirum Device Info Lite – System Monitor. If it's N71AP (6s) or N66AP (6s Plus), then your phone has the Samsung chip or if it's N71MAP (6s) or N66MAP (6s Plus), then it's a TSMC powered iPhone.