Gartner Research in their 2013 research report "Comparing Vendors of Comprehensive Application Infrastructure Suites" has tagged WSO2 in the "Visionary" quadrant in their magic quadrant relative positioning with big players like IBM, Microsoft and Oracle. WSO2 is the smallest company of the 7 vendors selected. Yet, it is the only company selected among open source vendors with broad enough product suits in all the three application infrastructure sections under analysis. This research provides insights to today's vendor market and offers basic profiles with the strengths and weaknesses of vendors considering the next three to five years time frame.
Gartner Magic Quadrant
Among many graphical representations of research statistics, Gartner Magic Quadrant is a graphical positioning based on the completeness of the vision and the ability to execute in the global market. It serves the bird eye view of technology providers for interested clients as a starting point of an analysis.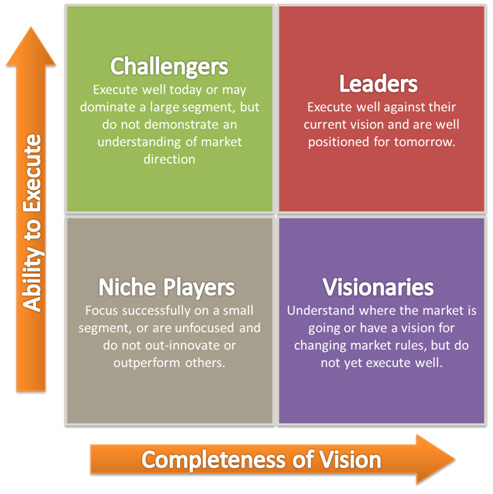 Vendor Selection
Vendors were selected based on the broader coverage of the application infrastructure suits and they were rated for the following aspects:
Systematic SOA application projects
Shared SOA interoperability and governance infrastructure
Systematic and comprehensive application integration projects
While both IBM and Oracle secured Leader category in all 3 aspects, WSO2 was selected as Visionary in all of them. Visionaries understand where the market is going or have a vision for changing market rules, but do not yet execute to the same level.  Compared to IBM and Oracle who are the market giants who have hundreds of thousands of employees and many years of experience behind them, WSO2 have shown their colors with just 160 employees and 8 years since inception.
According to Gartner's report, they recommend their clients specially for building systematic SOA infrastructures and for developing SOA applications and composites. Following are some of the strengths highlighted in the report.
1. With successful deployments in high-volume environments, WSO2 has earned credibility as a provider of solutions for larger enterprises and mission-critical systems.
2. WSO2's highly standardized and open architecture gives substantial freedom for organizations to combine and enhance solutions with existing integration technology. Its minimalist approach, as well as its use of OSGi for integration of WSO2 product modules, simplifies deployment and operational complexity.
3. Offerings are available both on-premises and in the cloud. The multitenant and elasticity enabled for its cloud deployment are also available in its on-premises products.
4. The vendor is growing and has acquired capital, which it has invested in geographic expansion and field and support organizations.
5. By embracing the concept of providing a platform that includes only broadly required functionality and that can be tailored to the needs of individual deployments, WSO2 dramatically simplifies the onboarding and operation of its solutions.
About Gartner
Gartner, Inc. is the world's leading IT research and advisory company. They provide the technology related insight for their clients to make the right decisions with up to date research findings.  Gartner is trusted by more than 12,000 clients worldwide including an incredible percentage of fortune 500 companies.
Please click here to access the full research report.
About WSO2
Founded in August 2005 by Dr. Sanjiva Weerawarana, WSO2 is a global enterprise middleware corporation with offices in USA, UK and Sri Lanka. Providing the only complete open source middleware platform from on-premise to cloud, WSO2 is revolutionizing the industry by putting traditional middleware on a diet and introducing lean, powerful and flexible solutions to address the 21st century enterprise challenges.