It's the most wonderful time of the year for tweeps, when TweetupSL arrives. This year's edition took place at the Mercantile Cricket Association grounds last Saturday with hundreds of tweeps gathering for the much anticipated occasion. This was the first time TweetupSL took place outdoors giving a relaxed atmosphere for everyone to mingle about.
Soon after registration everyone got in to their dialog sponsored T shirts with the various #OMG #FTW #Epic #WTF hash tags. The event commenced with cutting the cake and a very entertaining flash Mob. Check it out below.(Video credits to Aqeel Dave)
There were numerous games for tweeps from musical chairs to balloon dancing to noodle racing. A quiz on TweetupSL history was held by the Readme team with scrumptious gifts for the winners courtesy of Coco Veranda.
The TweetupSL awards took place towards the end, with 39 tweeps receiving awards according to the tallied votes on tweetupsl.org.  The category winners for the awards are as follows.(drumroll)
Miss.Tweep of the year – @AyshMarQ
Mr.Tweep of the year – @dodan123
Twitterholic of the year – @GayanMW
Tech Tweep of the year – @gazly
Sportaholic  of the year – @takashiG
Twitter News Breaker  of the year – @rangaba
Instagramoholic of the year – @HalikAzeez
Most Helpful Tweep of the year – @AnfasJM
Most Controversial Tweep of the year – @NotJagath
Funniest Tweep  of the year – @Rathgamaya
Diplo Tweep of the year – @NisansaDds
Foodie Tweep of the year – @PhuckYou_
Hashtagoholic of the year – @nHiRanZ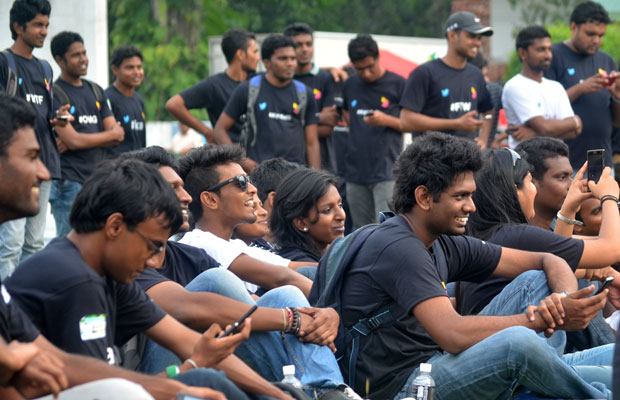 During these various activities, tweeps were able to meetup with old buddies and also got to meet up their virtually acquired friends in real life.  'Cos in twitter its not just about keeping touch with your existing friends, its about making new connections with people who you can enjoy a conversation with. That's what makes twitter qualitatively the number one social media in Sri Lanka.
Kudos to the organizing team for putting countless hours and immense effort into making TweetupSL 4, an event worth tweeting all week long.
Below are few moments captured at the event.