Techwire had the privilege of meeting up with founder and CEO of Bhasha, Dhanika Perera at their recently opened office in Kalutara.  We were able to discuss on his company, their innovative products, and his journey on the entrepreneurship path.
Tell us about Bhasha?
Bhasha Lanka (Pvt) Ltd can be introduced as a Sri Lankan based software development company dedicated for local language software solutions. It was founded by myself in 2011 as a virtual company with no physical office. But today we are a reputed company with number of award-winning products and potential client base.
The story of Bhasha begins when I was in the University. I developed a Sinhala/Tamil supported mobile web browser for my university 3rd year project, innovating a new technology to render complex scripts on mobile screens. It was awarded the mBillionth South Asian award and due to that the demand was coming from the industry Telcos. They wanted to launch it as a product for their subscribers & that's where I decided to found a startup to do the deal. Actually, that award was the turning point.
Then I started a virtual company just me being the only employee working from home using my laptop. Later three of my colleagues also joined, they are now the directors of the company at the moment. We've developed number of innovative products in local language area. We've won several awards globally & nationally; The South Asian award in 2011, Four e-Swabhimani Awards in both 2011 and 2012 and National Best Quality Software award in 2012. The recognition gained from those awards has really helped us to boost the company where it is now today.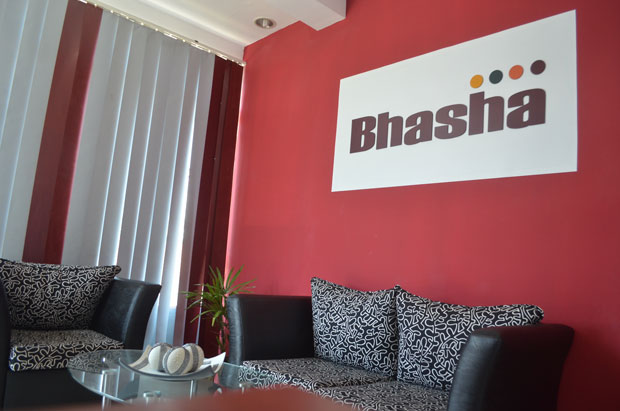 After two years later from its inception, we are in a brand new office with many products in our product suit and a decent client base. Now we are in the process of hiring the best people to work at Bhasha. As an entrepreneur, I think this is the real beginning of the company. Path to success from here is not coming in any map, so I'm hoping to find it in my own way!
When you had an opportunity to get a good job at a decent pay, why did you throw that away?
I'm really passionate about the area that we are working on since the school age. For example, I did a Sinhala based biological encyclopedia for human anatomy as my A/L project. That passion has encouraged me to do something new in that area. I choose to work on my passion in my way as there was no company dedicated to work in this area.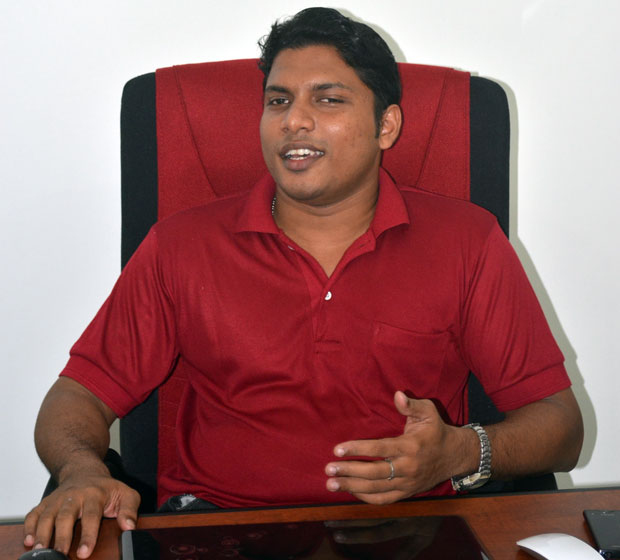 Also, I consider myself as a multi-skilled person. I'm a good developer, designer, speaker, leader, voice over artist, localization professional and technical translator. If I joined a company, I could have become a software engineer; limiting my talents to a certain area only.
The other reason why many find it difficult to make this decision is because of the risk of failing. In my case, even before I pass out from the university I was already working in the area and had products and links with the industry. So, I was fairly confident this would work.
But I'm not ashamed to say that I've also selected to work in a company and even signed the contracts just few months before I pass out. When all of the 100 students in CSE making their decisions to be employees in reputed companies, I also decided that I'm going to work in a company for full time and work for Bhasha for part time. Soon, I realized that if I go in that path, I would not do any of those properly. Today, I think it was a weak decision which I've managed to correct before it went wrong.
What are your products, in which domain and what is the client base?
We do have both B2C products & B2B products.
Our flagship product is SETT browser for Android. It was the first and only mobile web browser that can used to view Sinhala and Tamil web sites on Android mobile devices. SETT browser is free for users of Dialog and Etisalat and we are working with Mobitel also. Sri Lankans outside of Sri Lanka can use the SETT browser freely with ad support.
SETT browser is also available for Indic languages like Hindi, Bengali, Marti and Gujarati as well. SETT was the first browser to support even Hindi at that time. We have won three awards for SETT.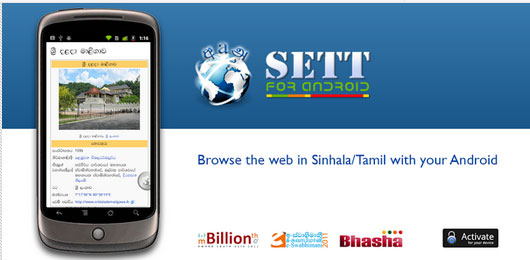 We also have an award-winning web product called SETTdeco which provides device independent rendering service for Sinhala and Tamil. It enables any user to read Sinhala and Tamil Unicode web contents without depending on user's language support. Our first client for that was BBC Sinhala web site. Ada Derana and some other local sites also use the same facility. But we have given it for free for Sinhala bloggers for non-commercial purposes as we always promotes the local language use in IT.
We mainly focus on local language products on mobile platforms. Bhasha is the proud owner of the one and only Mobile Sinhala soft-keyboard for Android devices which won e-Swabhimani award in 2012. Another product, Bhasha Puvath is a Sri Lankan news aggregator from news sources from multiple local language news sources. Bhasha Dictionary is an English to Sinhala & vice versa dictionary we developed in collaboration with LTRL of UCSC. Bhasha Puvath & Bhasha Dictionary is available in both Android iPhone platforms. We will soon make available them for Windows Phone platform also. Bhasha Viyunu is a blog reader for local languages. Vishwa Facebook is a Facebook client for Android which support local languages. All these products are ad-supported and given free of charge for users.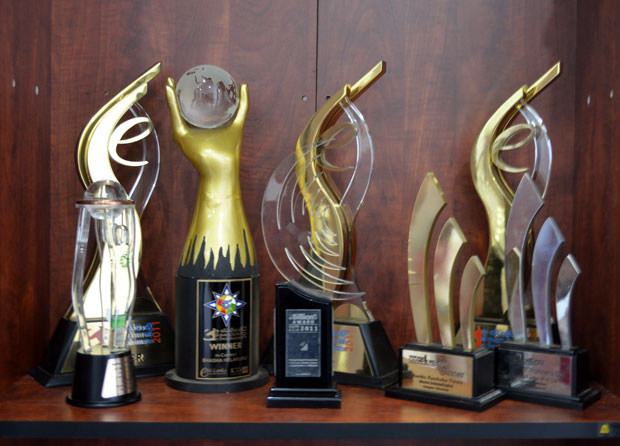 In B2B product line, we specialize many industry areas. Mobile browsing, News Media, Mobile banking, m-Commerce, Location tracking, Image sharing & Augmented Reality are the main. Some of our key clients for our B2B products are Etisalat, Dialog, Derana, Hiru, Ceylinco Insurance & Union Bank. In all these products, local language support is available by default. It's our vision to make sure that we support the user's right to work with the local languages that they use.
What is the potential that you see in the domain of operation? local language and Mobile as a whole?
According to the stats, there are 20million mobile phones in the country for the 20million people living in this country. Although we have a record high literacy rate in South Asia over 90%, the English literacy rate is about 10% of the total population. You might not be able to understand this reality because of your neighborhood; may be your society is inclined to English as a trend. But there are 18million Sri Lankans who would be comfortable in using their native language as opposed to English. When technology moves fast, we see a huge potential in bridging the 90% of the population with the web and latest services through local language support. It can drastically improve the service reception to the population otherwise unreached. It can improve data usage by which Telcos get a huge benefit from.
In the new technology businesses, engineers have become successful entrepreneurs especially in western countries. Do you see the same trend in Sri Lanka as well?
If you take many well established IT companies, founders are mostly coming from the technology or engineering background. But, since Sri Lanka is lacking the entrepreneurship culture, it's hard to see newcomers join this list of names. So what we don't see is a trend as in other countries. Everyone is hoping to do a job; they don't imagine anything beyond that. Even when I took this decision, I had pressure from my family. They were asking "why don't you go for a job for a year to take the experience before you start the job". It's true that everybody can't be an entrepreneur. But it's sad to see that there are not enough attempts from the young techies.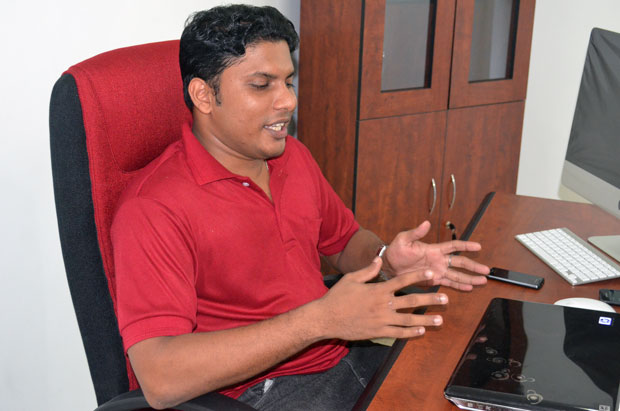 Who helped you during the inception?
My family and my girlfriend helped me a lot backing my decision after I started to work in Bhasha fulltime. My colleagues Chamika Weerasinghe, Ganindu Prabhashana and Punsiru Alwis always help me being the first employees of Bhasha and now being the directors. I had the best support from the department of Computer Science & Engineering of University of Moratuwa completing my engineering degree while creating Bhasha. I would like to mention Mrs. Vishaka Nanayakkara, Dr. Shahani Weerawarana, Prof. Gihan Dias and Dr. Chandana Gamage for their support.
I also really respect Mr. Duminda Rathnayaka the CEO of Etisalat, who saw the potential of SETT long before anybody else. Without his input, Bhasha might not come this far. Mr. Harsha Purasingha of Microimage is also one of my entrepreneurial mentors. I would like to thank for the great support from all industry leaders who are today our clients for keeping trust on me as a young entrepreneur.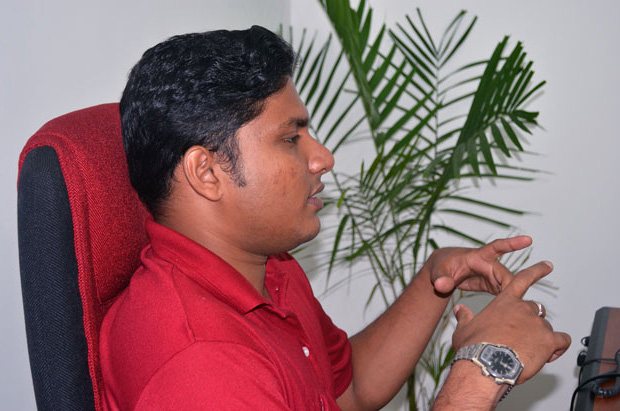 I would like to thank the government and the ICTA about their tremendous support for tech startups. It was varying from the awards to the consolation to funding opportunities through ICTA Spiralation program.
There are 100 graduates coming out each year from the Computer Science & Engineering. In your batch, how many of your batch mates have started a company?
Only myself.
Isn't that something strange? Is this something that we can afford as a nation?
I think it is due the non-entrepreneurial culture we have. Everyone is looking for a job as soon as they get some educational qualification. Many don't even think that there are options out there other than going for a job. Even the society and traditional industries do not have a good picture on their mind on young entrepreneurs. This is something we have to correct from everyone's attitudes. In my opinion at least we as undergraduates should try to be job makers in the country, but not job seekers.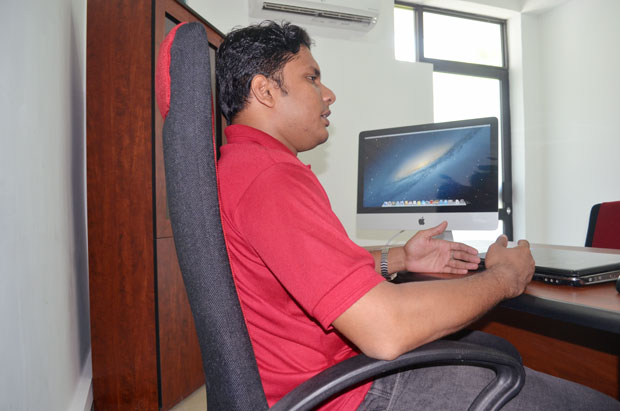 My message to these budding entrepreneurs is to follow your passion and back yourself to succeed as an entrepreneur. You may have to work twice as hard (than a job) at the beginning but the rewards you would get down the line would be tenfold or more.