Note from the Editor:  Arangaya Apps is a Mobile Application Development company which was founded in 2009 by 2 Sri Lankans, Chamira Fernando and Shenal Murray. During these few years Arangaya Apps has become one of the leading iOS app developers in the Sri Lankan market and are the creators of popular apps such as SL Radio, SL Paper, SL Dictionary, iSinglish, and SL Chat.
We got a chance to have an interesting chat with the founders on their journey, their motivation and the future plans of Arangaya Apps.
What is Arangaya Apps? What is the objective behind it?
Well this is how it started. Since I was away from home (Sri Lanka) I wanted to keep in touch with Sri Lanka all the time. I wanted to read local newspapers, to listen to local radio. So when I got my iPhone, I thought of doing a SL newspaper app in order to read the local paper. Then I wanted others to read newspaper on their own devices. So in 2010 I thought of doing the SL paper app for all Sri Lankans. That's how we started, to enable Sri Lankans to know what's happening at home. That's the whole intention, because I know personally that being away from home is not easy and being in touch helps a lot.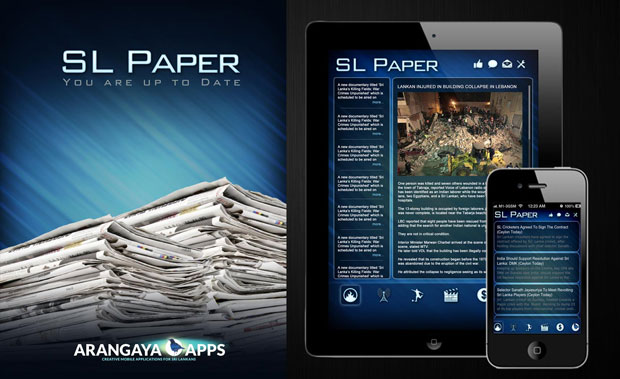 After that we released SLRadio which became a big hit in the iOS market. Once that happens, you know once you do thing right other ideas would also start to work out. Then we thought of doing SL Dictionary followed by iSinglish which is a phonetic Sinhala editor. Recently we launched SL chat, for users to chat in Sinhala.
Who are the people behind Arangaya Apps?
At the moment there is, Myself (Chamira), and Shenal. I (Chamira) work on the iOS development. Shenal is our creative designer.
How did you guys get together to form Arangaya Apps? What motivated you to take it forward?
Actually at that time I studied is Singapore and Shenal was also in Singapore. We met in one of the social events for Sri Lankans. Shenal is good designer and a really humble guy, so I asked him whether he wants to join with me on this task, and he agreed.
One day, we met up at McDonalds and decided that we are going to work on this common objective. We all are having full time jobs, so this started as a kind of a hobby, something to do when you have free time. However with time it gradually turned out to be much more.
It was quite pleasing when we received good feedback from users for our initial apps like SL Radio. That plus the fact that our apps were at to the top in the Apple app store really motivated us.
Where did the name Arangaya originate from?
Arangaya is actually an endemic bird to Sri Lanka. We wanted to have a name that would be unique and related to Sri Lanka. Arangaya also sounds good for a company name.
What is your flagship product?
Definitely it's the SLRadio app. You can check the number of downloads, we have over 150,000+ downloads. We are pretty happy and proud of that product. None of the other SL apps have this many downloads.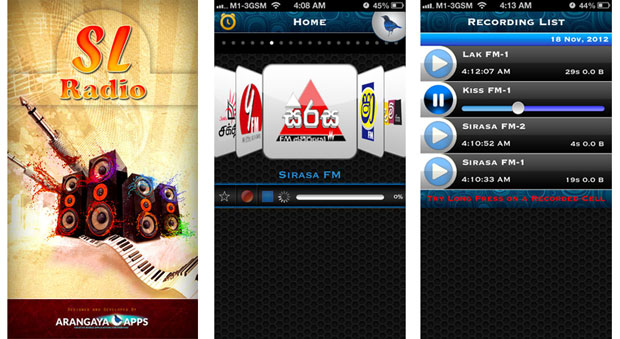 How do you run your organization?
Communication is a bit of hassle, but Shenal sleeps in odd hours so communicating with him is not a problem. However with so many communication mediums available nowadays, we somehow manage. I (Chamira) take the role of the Project Manager and take the responsibility on driving the project.
At Arangaya apps, we give a lot of emphasis on the design quality of the app.
Design prospective is one of our main concerns. We have seen some Sri Lankan apps in the appstore lacking a good designs. We make sure our apps are high quality in terms of the design and ultimate user experience.
How do you manage to put time in to Arangaya while working full time?
Actually I work for another app development company in Norway. After work there is some free time. However when I was in Singapore it was really tough, but when you have the motivation you can do thing even when it gets difficult. Due to this we don't go out much. That is a sacrifice we have to make at these initial stages.
How many iOS/Android apps do you have?
In iOS we have 15 apps. And some of the apps are not in the store right now since they are seasonal. Like the one we did for the T20 cup, for ball by ball commentary. We currently do not have any Android apps, but they are in the pipeline.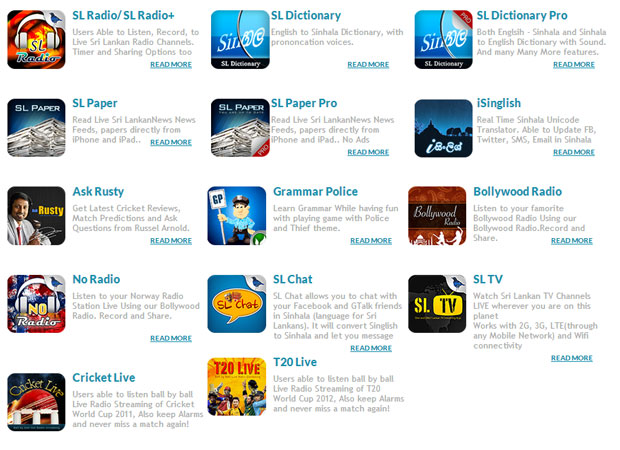 What is your revenue model? Is Arangaya Apps still a hobby?
It is a business now. Revenue is mainly from downloads and mobile advertisements. SL Radio has ads on it, and we get revenue from that. There are advertisement free premium versions of some of our applications which brings revenue per download. SL Radio and SL Dictionary are the main apps that bring us money.
Do you develop apps for 3rd Party clients? Will that be your future target?
We have done apps for 3rd parties in Norway and Singapore. We want to do products for Sri Lanka and we want to have a development company in Sri Lanka soon. By the time we move back to Sri Lanka we would have our own company.
Although we will put some time for 3rd Party Apps, we want to make the full package of apps for Sri Lankans. So we will continue to create great apps for Sri Lankans.
Are you looking at making apps for the world market?
Yes we have a plan to go Global. Currently we have apps for the Norwegian market. We want to expand our products to markets in US, UK, Japan and Australia where there is a huge potential.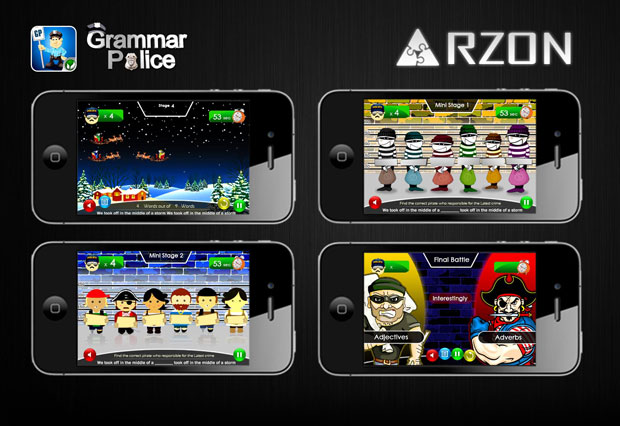 Is your team hiring?
Yes, if there are any young developers or designers, who want to excel in this area, and if you have the right attitude and willing to work hard, contact us on support@arangaya.com . You have a chance to do cool stuff and be part of something Special.
What is your message to budding entrepreneurs in Sri Lanka?
We will summarise our message to young entrepreneurs in three words!
Passion –  In order to succeed in your career you must have deep passion! Passion is your energy, It drives you where you want to be. Find your passion!
Confidence – The whole would against you and your ideas, they think you are crazy and unrealistic but trust yourself have confidence on what you do!
Commitment – Having passion and confidence wouldn't take you where you want to be! It is ultimate commitment which would take you where you want to be.  Give your full commitment! Its not easy! There would be so many occasions you feel like giving up. Never ever give up! Your hard work will be paid off.
"Arangaya Apps"  is a result of Passion, Confidence and Commitment!