"Democratic Socialist Republic of Sri Lanka" that's the actual name of our country. So, we are a democratic country – what does that mean. Wikipedia says: Democracy is a form of government in which all eligible citizens participate equally—either directly or through elected representatives—in the proposal, development, and creation of laws. In most modern democracies, the whole body of all eligible citizens remain the sovereign power but political power is exercised indirectly through elected representatives; this is called representative democracy.
Elected representatives, in other words members of parliament are representing you and is elected by you for that reason. Ever wondered whether there could be a better way to know what how good the MPs you've elected has done representing you? But, who has the time and energy to spent reviewing PMs once they are PMs. We all wait for the next election to do our job. Isn't it? Even then, aren't we too overwhelmed with the recency effect of the media flimflams during the election time?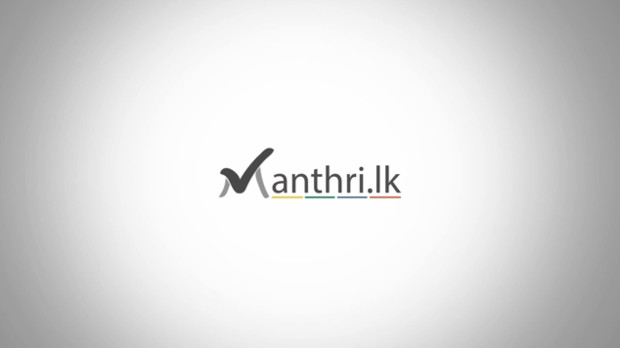 For the first time in Sri Lanka, here is a tool is available to systematically gauge performance of MPs by the use of parliament records. Mantri.lk is a trilingual web which is designated to provide you with the profiles of MPs with a score card based on activities of the parliament. For that they use parliamentary Hansard as the source of information. Contribution to various important topics discussed in the parliament is considered a positive remark whereas disruptions to parliament and impeding its functions is considered as a negative remark.
It also has a profile for each MP with their educational background, contact details and social media details where ever possible which should ideally create the understanding and link between the masses and the MPs.
There is a rank derived of MPs overall performance. Top and last ranked MPs are available in the front page dashboard. You can search by MP name, district, coalition, party and topics that are being discussed in the parliament. You can compare up to 5 politicians for their profile details, contribution to different areas of discussion at the same time – very useful in selecting the next MPs that you are going to cast your valuable vote! On each topic, contributions are ranked. Its interesting to see that some of the ministers are lagging in the scope of the ministry that they are handling to other active MPs.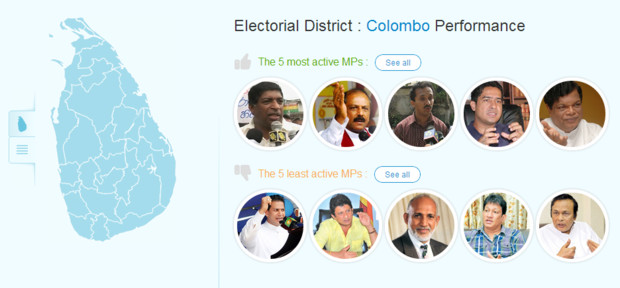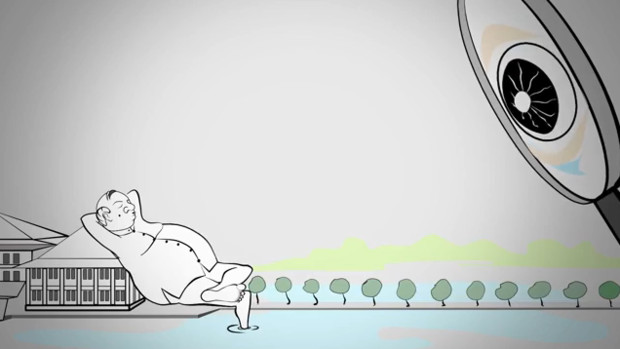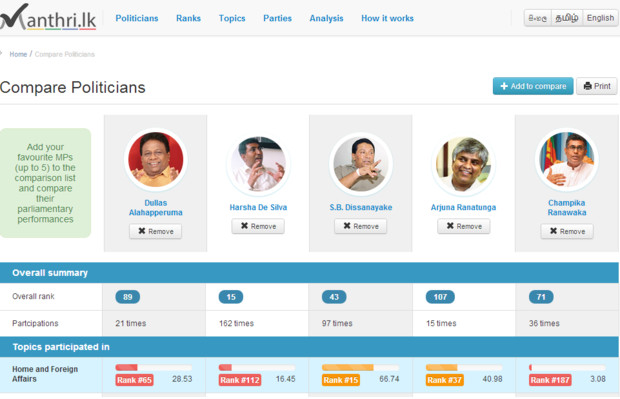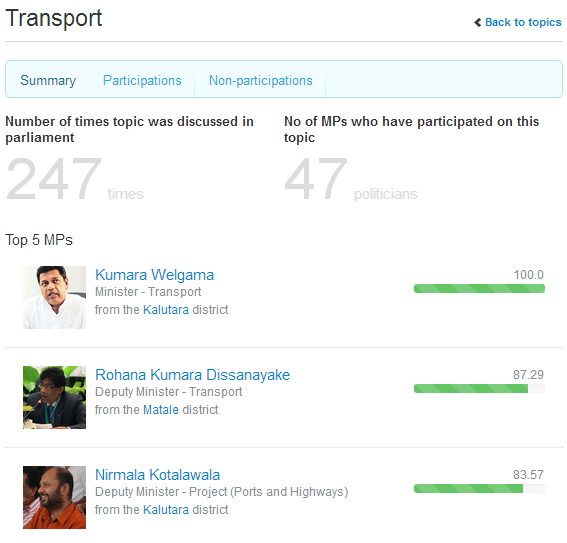 Manthri.lk is an initiative by Verité Research, a Colombo based research group in partnership with web technology partner Saberion.
We think this useful tool can be further improved if it can include successful projects completions, success rates and financials of those activities as well as personal financial records. It's all about increasing the transparency of our political system. We believe that small initiatives like these can create a big difference in the time to come.