Amazon Alexa is a virtual personal assistant designed by Amazon.It is a voice-activated application like Siri in Apple, Google Assistant in Google and Microsoft's Cortana.  Alexa was initially designed by Amazon's Secretive Lab126, but later integrated with many of Amazon services and also available in products such as Amazon Echo and Amazon Fire TV. Alexa became popular with Amazon Echo, a device that can act as a speaker as well as a smart hub, and also capable of working with many other devices.
You can ask questions from Alexa such as "what is weather today in Colombo?"  or  "Dollar rate for Rupees" or even about general questions like "who is Richard Branson ? ". Simply, it listens to your voice commands, responds and help to get your work done.
Besides, you can assign it to perform different tasks like create to-do lists, play music tracks and control volume, order items from Amazon, play games and various other cool stuff.
How does it work?
Alexa is an Amazon's intelligent cloud-based voice service, therefore whenever you ask a question from Alexa, in reality, you communicate with a cloud service, as most of the complex operations such as Automatic Speech Recognition and Natural Language Understanding are handled in the cloud. AVS( Alexa Voice Service) is a service designed by Amazon to perform these tasks. The diagram depicts the high-level picture of how AVS works.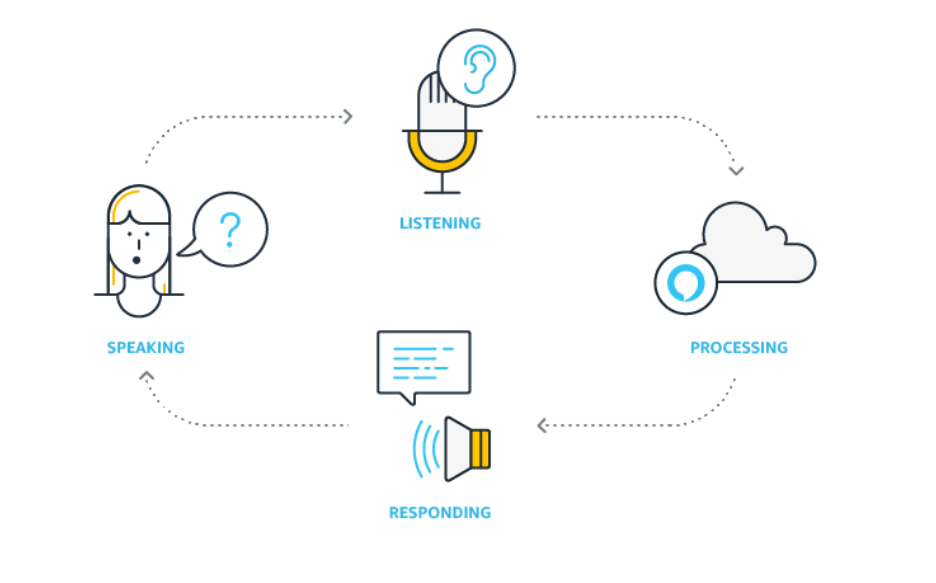 Amazon continuously works to enhance the features and capabilities of Alexa with the advancement of machine learning. As I mentioned before first it became it hit with Amazon Echo then they made Alexa available for new Fire TV Sticks. In March 2016 they announced another two Alexa-enabled products, Echo Dot and the Amazon Tab.
How can you use Alexa?
Usually, you need an Amazon device such as  Echo, Dot or Tap in order to use Amazon Alexa. However, due to the increasing demand, Amazon allowed some of the third-party apps to support with Alexa. For example, LG Smart ThinQ hub, the Pebble Core wearable, Invoxia Triby ( a portable speaker), and the Nucleus intercom are some devices which come with Alexa's support.Alexa is also compatible with Fire tv, Fire, Fire HD 8, and Fire HD 10 tablets.In addition to that Ford recently announced three of its car models will talk to Amazon's assistant.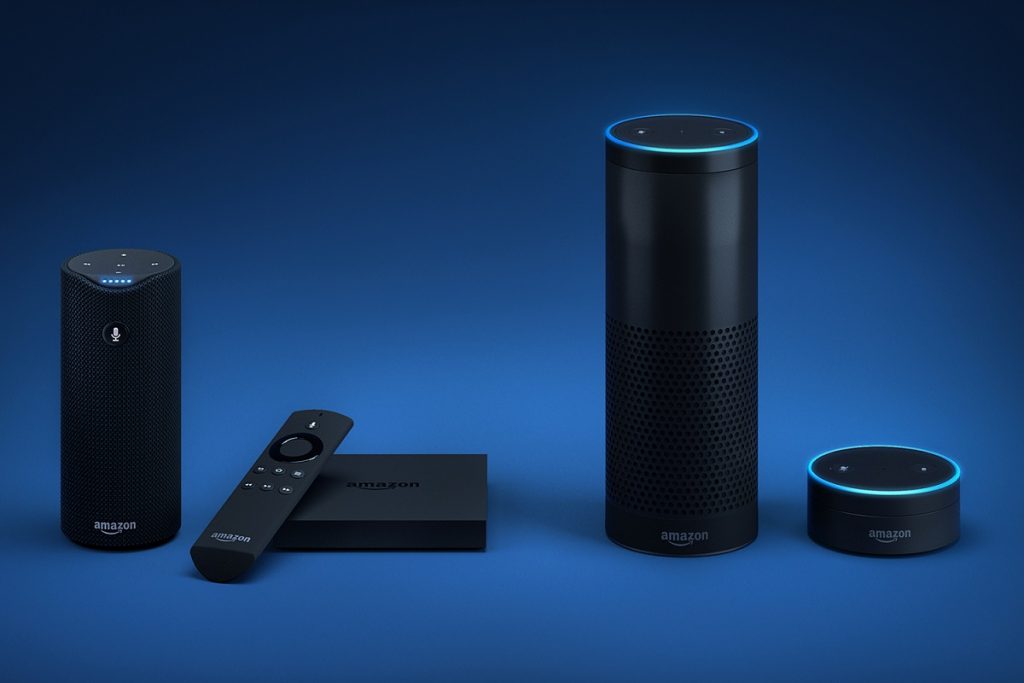 How can Amazon Alexa help you?
Amazon Alexa is indeed a personal assistant for anyone. In fact, Alexa's skills expand into a wider area as it can help the user by providing support in sports, entertainment, news and even social media. You can't say these are the only things Alexa is capable of because day by it gets advanced with not only with the inbuilt features but also with the features provided by third parties.
You can find more things which Alexa can do from this link.
Furthermore, Amazon Alexa can be used for controlling smart home. For instance, it is capable of connecting to most popular smart-home services such as  WeMo, Google's Nest and the Philips Hue. So now you can control the smart-home products in a way of changing the temperature in the home, turning off the lights and many other IOT devices with the aid of these apps. All you have to do is ask Alexa to make changes to those devices. Life has become much easy with the help from personal virtual assistants 🙂
Currently, Amazon Alexa possesses over 3200 skills and growing.  Plus, the skills are available through the companion app or online via Amazon's Alexa portal.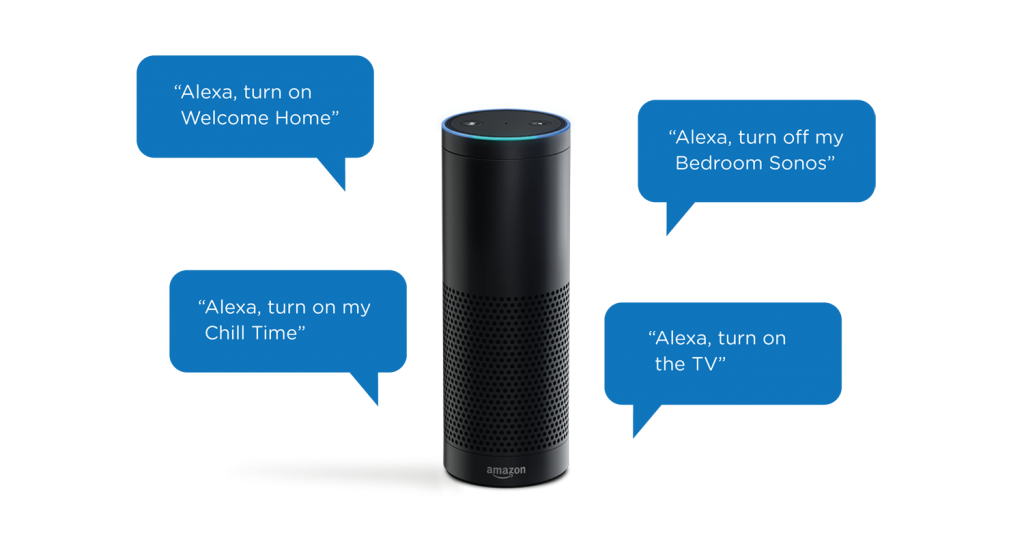 Concerns
The biggest claim many people make is the inability to work on many commands at a time. Simply you can ask Alexa to perform two tasks at the same time. This could be annoying if you are going to create a shopping list with the aid of it and every time you have to ask it to add an item to the cart separately.
Next limitation would be the inability of working in multiple languages. Currently, it supports only English, but they might offer more languages in the future.
Although you can change the wake words into "Alexa," "Amazon," "Echo," or "Computer." One can claim there are a limited number of wake words. As it is supposed to be a personal assistant, a user might want to personalize the name too.
Then one can claim about privacy as it has become the biggest concern in nowadays. Alexa is a cloud-based service, and in order to help the user, it collects and stores information in the cloud. It knows almost every information you are linked with, and every time you get the help from it, it keeps track on your personal tastes. In addition to that, echo or Dot is always listening to you within a very good range but not much to worry because it always listens for its wake word. Once, it heard the wake word only it starts to operate.
Bottomline
One more thing, if you are going to use it, Alexa companion app which is available in Apple's App Store, the Google Play store, and the Amazon Appstore could help you with a better experience.Although companion app isn't a must for you to use Alexa still, it can enhance the user experience as app lets the user surf into more the skills of Alexa.
Finally, Apple has Siri, Google has Google Assistant, Microsoft has Cortana and Amazon has Alexa regardless of the option, all these virtual assistants make life easy for us and each day their capabilities and services grow and become better through the enhancement of cloud and machine learning. Tomorrow when you wake up you can ask Alexa,  "Alexa, what's new with you?" " and don't be surprised if it had features that you have never imagined.
References
http://www.digitaltrends.com/home/what-is-amazons-alexa-and-what-can-it-do/
http://www.tomsguide.com/us/amazon-alexa-faq,review-4016.html