At the beginning of the year, SLT gave their broadband users a new year gift with additional quota (both peak and off peak) for their broadband packages. However many users were saying that the increase in quota is only for the off peak hours. The problem stems down to the fact that even though SLT had peak and offpeak quotas in 2013, they were never applied. For example, the user who had a quota of 20GB peak and 5GB off peak, had the ability to use all 25GB at peak times. So effectively the total quota is the peak quota. Now with that context lets take a look at the below comparison of packages after the quota increase.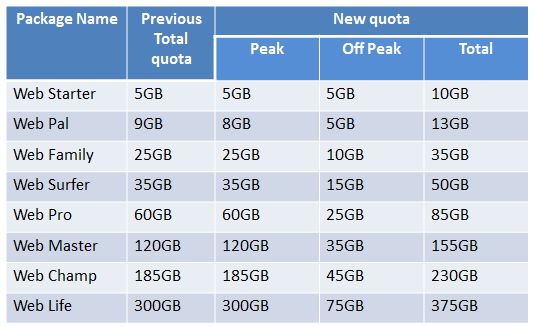 From the above table it is clear that the earlier total quota is now the peak quota while there is additional off peak quota. So practically yes it seems there is only an increase in the off-peak quota. However theoretically there is an increase in both quotas, just that the off-peak wasn't applied earlier.
Bottom line is that SLT ADSL users can experience more quota in the off-peak hours. Being off-peak should not be too much of a problem as most users would schedule their downloads at that time. However it may not be too much use for corporate connections and internet cafes.
For more information on SLT ADSL broadband click here.