Today, TV Derana launched its android app and we had time to check it out. The app provides live TV, Program episodes and Music videos.
After launching the app you are directed to the Programs view which have various Programs by Category.The main categories are Tele Katha, Talk Shows, Music, Reality Shows, Religious & Ethics and Magazine & Variety. Once a category selected you get a list of programs available under that specific category. Selecting the desired program shows you the past episodes from which you can select which one to view.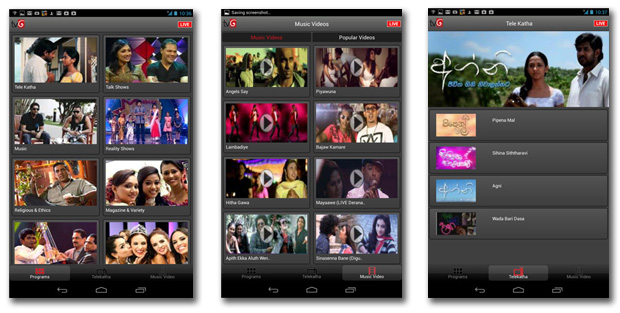 The menu is at the bottom with two other options: Tele Katha and Music Videos. The Music Video section holds some of the latest and Popular Music videos. The Tele Katha section is the same as the category in the Programs section. I guess since Tele Katha are bound to be the most watched, they have given it more prominence. Live TV can be watched by selecting the live icon available on the top right corner.
The quality of video and sound were satisfactory, while videos loaded at a decent rate. When viewing videos, the standard play, pause, and seek bar is available.
The app which has been developed by Fortuna Global is pretty solid. It might be a good idea to add social sharing as a feature for the next update, which will enable users to share their favourite TV shows and increases the reach of the videos and the app as well.
Click here, for TV Derana on Play store.