In a nutshell: Listen to SUNFM on your android mobile over the internet
Category : Entertainment
The Good : User friendly interface,
The Bad: Does not auto restart after it stops due to low data speeds
Main Features: Listen to SUNFM online, Check radio schedules, request a song
SUN FM recently launched the first official radio station app for android. This app basically lets you listen to SUN FM over your data connection, mobile or WiFi. So you will require this app if your smartphone doesn't have a radio or if you're using a tab.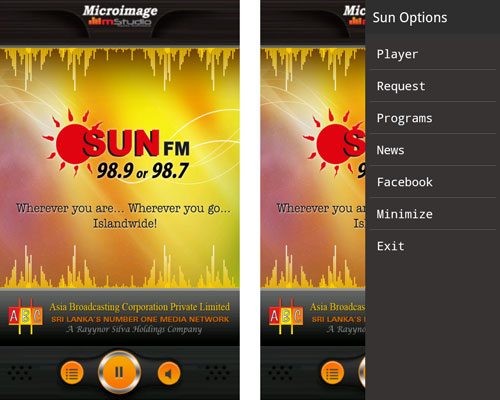 The app has one screen which has three buttons at the bottom for menu, play/pause and volume. The middle of the app is mostly static, only displays buffering when needed. It would have been nice to have an equalizer running in the middle of the app. On the menu you have a set of options, main ones are to minimize the player, request a song or browse the show times.
Since this app is using data you have to keep an eye on your data usage, as this will consume about 20-30MB per hour. On HSPA, I was able to listen to Sun FM continuously without any buffering. However when I switched to EDGE, the transmission got cut off due to the low data speeds. Also once it stopped it did not automatically restart the buffering until I provided a touch input.
This app is good starting point for Sun FM. Hopefully the future versions would add a bit more flare into the UI and optimize for low data rates.