A couple of days ago in New York, Samsung unveiled its new flagship Android device, the much speculated Galaxy S4 (i9500). One year ago we saw the predecessor of this S4 the ever so successful Galaxy S3. When moving on from the Galaxy S2, the Galaxy S3 had a proprietary elegant design with poly carbonate exterior.  Samsung made the change in design due to Apple's law-suits and other comparative reasons.  Due to the success in the S3 design,  Samsung  kept the same look in the S4 as well with some minor changes.
So lets kick off with the design and size in detail. The predecessor Galaxy S3 had a 4.8inch 720P display, with phone dimensions of 136mm, 70.6mm and 8.6mm. The new Galaxy S4 has a 5inch 1080P display, with phone dimensions of 136mm, 69.8mm and 7.9mm. So basically we have a phone similar to the  S3 design, with less thickness and 0.2 inch more screen area thanks to edge to edge screen technology. The Galaxy series generally have super displays and Galaxy S4 is no exception. It has a 1080P (441ppi) display which is powered by Samsung's Super AMOLED HD display technology and it's protected by Corning Gorilla Glass 3.
Power wise, the Samsung Galaxy S4 is the world's most powerful smartphone currently available. The reason for that are its power packed internal components. This new phone is powered by a Samsung Exynos 5410 octa core processor. Yes! it has 8 cores in total, inside the Exynos 5410 exists 4+4 cores, 4 ARM Cortex A7 CPUs at 1.2GHz and 4 ARM Cortex A15 CPUs at 1.6GHz, when you are doing simple tasks like web browsing, reading, etc etc Exynos 5410 will use the low power A7 cores but if you start a heavy duty task like gaming the Exynos's A15 cores will kick in. This technology which is called big.LITTLE makes the SoC more powerful and at the same time makes the phone  more power efficient.
You might remember the original Galaxy S's GPU the PowerVR 540 single GPU. It was the most powerful GPU at that time period but Samsung went ahead with the Mali-400 graphic solutions for their S2 and S3, The S2 had a Mali-400 dual GPU and S3 had a Mali-400 quad GPU but those are not powerful enough for the  GPU hungry games. So Samsung decided to go back to PowerVR solutions again with the S4, having a PowerVR 544 triple GPU which is running at 533MHz. According to anandtech  this GPU roughly can produce 51GFLOPS of GPU power, which means you can except iPhone 5 like GPU power.
Samsung Galaxy S3 had an 8mega pixel camera and it took some amazing pictures. This new Galaxy S4 has a 13mega pixel camera and it has more exciting features than the S3. The new camera interface has more scene selections like Eraser, Cinema photo, Drama shot and Sound and Shot. In Eraser mode you can erase the unwanted background area and in the Cinema photo mode you got some exciting freeze features while you record a video. Now you can enable both cameras at the same time to take a picture, so you will not be left out in the group picture. By the way both cameras support 1080P video recording.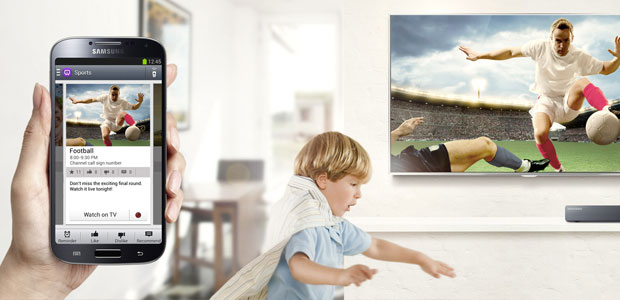 As you know, Samsung heavily customizes the Android OS through their TouchWiz UI. This new Galaxy S4 runs the Android 4.2.2 with the latest features built-in. This new OS includes Air View, Samsung Smart Pause, Samsung WatchON, Optical Reader, Group Play, ChatON dual video call, S Translator, S Health and more. Air view lets you control the mobile phone with gestures above the screen, while smart pause will hold the video your playing if you look away from the screen. Lot of nifty features but it is unlikely that they will be used heavily in day to day activities.
Looking at the Galaxy S4, it is powerful piece of hardware with some tweaks in the software of its predecessor. However, since there is no major change in design or any new wow features, one does feel a bit disappointed with the Galaxy S4. Just when they were edging past the iPhone, they seem to have lost steam…sigh.
Galaxy S4 Full Specifications
Processor: Exynos 5410/ PowerVR 544MP3 GPU.
RAM: 2GB
Display: 5inch 1080P (1920×1080) Super AMOLED.
Internal memory: 16GB/32GB/64GB plus SD card slot up to 64GB.
Wireless: Bluetooth 4.0, Wi-Fi a/b/g/n/ac, NFC.
OS: Android 4.2.2 with TouchWIz UI interface.
Sensors: Accelerometer, gyro meter, proximity meter, compass, barometer, temperature, humidity, gesture.
Battery: 2600mAh battery.