Smart watches have been lingering around for some time without having a big take up. However seems like this scenario is about to change with some big industry players making their move on this market. Samsung introduced their offering the Samsung Galaxy Gear early this month and is set to be released in the coming week.
So lets see what the Galaxy Gear has to offer.
Processor and Display
With 800MHz processor and 512MB RAM, the Galaxy gear has processing power equal to a low end smart phone. The Screen is a 1.6 inch super AMOLED display with 320×320 resolutions.
Camera
The 1.9 megapixel camera is placed on the strap of the watch, with auto or macro focus and ability to shoot 10 seconds of video (upto 720p quality)
Interface
The interface actually looks nice with the bright colours and large icons. Navigation from the home screen to apps is done through horizontal swiping. Once you reach the end you come back to the home screen.
Battery life and Charging
As per Samsung, the battery would last you for a day. As we are not used to charging watches, frequently charging the Galaxy Gear would be an additional task and quite cumbersome. Also unfortunately you need a special dock to charge it, and the standard micro USB charger would do you no good.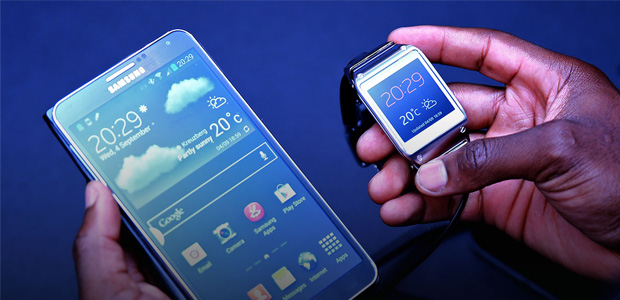 What can you do with it?
Smart watches will mainly act as an aid to the smart phone, and would have little functionality on its own. The Samsung Galaxy Gear follows the same trend. Here are some of the tasks you can do with it. More would be possible according to the availability of compatible apps
–          Answer and make Calls
–          Check notifications on your phone
–          Record Voice Memos
–          Take Images and videos
–          Auto lock when your phone reaches a certain distance away from the phone
–          Find your device
–          Control your music
–          Fitness tracking
Compatibility
Currently only with Galaxy Note 3
Will it sell?
We believe that for people to widely use a smart watch a) It should be reasonably priced b) It should have battery life for atleast a couple of days c) It should provide functionality that makes the experience of your smart phone better.
At a price point of $300 dollars this smart watch would cost you more than a Nexus 4 phone, and also with its poor battery life the Samsung Galaxy Gear definitely falls short on the first 2 of the above factors and since it only works(at the moment) with the Galaxy Note 3, it unlikely to be a hit. And hopefully the next version will be much more improved.