Road accidents cause large number of deaths, injuries and disabilities of people around the world and it has been found that 10%-20% of fatal road accidents are due to driver's negligence. Further from the researches it has been identified that main causes for this inattention are drowsiness and distraction.
The aim of RIYADISI is to assist drivers to maintain their attention throughout the journey by monitoring and alerting them throughout the journey. RIYADISI is a real time, automated and noninvasive (not involving the introduction of instruments into the body) system which uses computer vision and machine learning techniques to detect driver drowsiness and distraction and alerts the driver. The main distinguishing feature of RIYADISI when compared with other related products in the market that it does not have any instruments attached to the body of the driver.
The monitoring video camera (Height-2 cm X Width-5 cm approx.) is placed on the dashboard near steering wheel which uploads a live video stream of the driver to a central server. The video stream is analyzed from the central server software and it identifies the status of the driver, whether he is sleepy or not concentrating on driving.
RIYADISI system uses decreased eye blinking rate, yawning and nodding off to detect drowsiness whereas it uses eye-gaze movement and head movements to detect distraction. If the central server detects that the driver is drowsy or distracted, the system has the capability to alert the driver on the same. Furthermore the video camera used here is an Infra-Red (IR) camera which facilitates to use the system in the night as well.
The next phase of this invention is to integrate the whole system into a mobile app where the mobile phone will be able to alert the driver by continuously monitoring him.
RIYADISI is an invention by a team of final year undergraduates of Department of Computer Science and Engineering of University of Moratuwa under the guidance of Dr. Chathura Perera. Team members are Dileepa Fernando, Sandareka Wickramanayake, Sadari jayawardena and Sanka Darshana.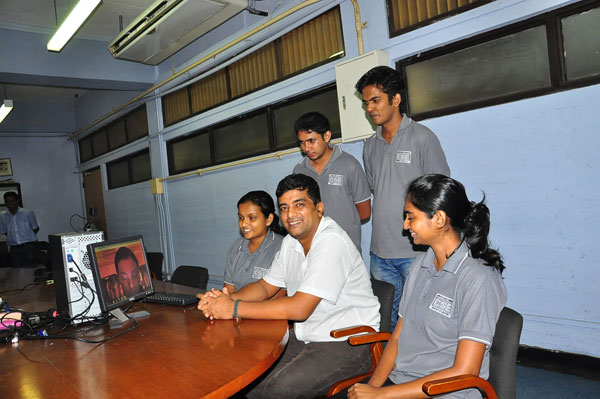 While congratulating the team of inventors on RIYADISI product, we wish them all the best for the next phases of the product and looking forward to see this novel product in the market in near future.
Refer following video for more details – Video credits to live@8