What makes a good game? Is it the graphics? the gameplay? or the storyline? Actually all that aside, it is how playing the game makes you feel, that really defines it. In that sense Monument Valley a puzzle game tops it off, as the experience playing the game is fantastic. Although there have been a bazillion games released on Android, I haven't enjoyed a game this much since Royal Revolt.
In short Monument Valley, is puzzle based game where you have to direct Princess Ida through 10 beautiful levels of 3D mazes. Beautiful might be an understatement. The mazes are minimalist and gorgeous, together with the geometric illusions are a treat to the eye. I agree with the Designer Ken Wong, that the image of each level is beautiful enough to frame and hang it. Princess Ida is guided through the maze by touching the pathway. The path needs to be altered through the movement of ledges and columns to bring her to the end point. The animations and gameplay is smooth, but that is on a Quad core phone so can't really comment on whether there will be performance issues on lower end phones. The lovely background music complements the graphics and together creates a wonderful experience. The puzzles are enjoyable, designed with imagination and creativity, but not that difficult. It would have been nice if the difficulty was notched up higher.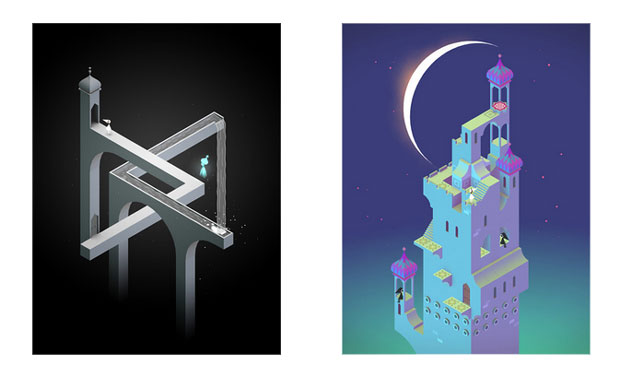 Monument Valley however disappoints with having only 10 levels. For one the game can be finished in a couple of hours. Secondly since the game costs around $4 dollars, 10 levels might seem a bit insufficient for that price. But looking at the number of downloads on iOS and Android it seems people don't mind dishing out a bit extra for novel game.
Monument Valley brings out a unique experience that you should definitely try out if you are willing to pay $4. And hopefully we will see a sequel with a lot more levels released in 2015.
Download it on Android from the Play Store or on iOS from the Apple appstore