For the 3rd consecutive year Massachusetts Institute of Technology (MIT) Global startup labs (Formally known as AITI) successfully carried out their annual student entrepreneurship program which spanned for 7 weeks in corporation with the University of Moratuwa – Sri Lanka. This is a program to assist cultivating the next generation of entrepreneurs in emerging regions.
During these seven weeks, 24 Sri Lankan top undergraduates were teamed as five companies to develop startups based on a mobile or web application with careful guidance of four MIT instructors Akanksha,  Amber, Dhaval, Valerie, industry professionals and mentors in Sri Lanka as well as alumni of previous GSL classes. Program curriculum consisted of not only technical coding but touching every crucial subject and skill areas essential for these budding entrepreneurs from market research and business law to finance and presentation skills.
There were industry visits where these students had the opportunity to meet the innovative brains behind the successful startups such as Millennium IT and Anything.lk. Furthermore the students participated in a weekend long hackathon sponsored by Google – Sri Lanka. Also they pitched their products twice before Launch Day to investors and consultants.
Marking the end of this year's program, the 'Launch Day – the culminating event' was held last week (1st August 2013) at The Kingsbury- Colombo with a gathering of industry professionals, and leading entrepreneurs.
It was a four hour event auspiciously commenced with lighting of the oil lamp by the honored guests followed by welcome note by Amber Houghstow – MIT.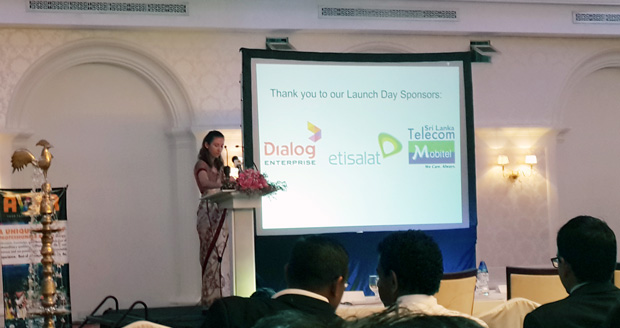 Opening key note was given by Dr. Harsha de Silva – Consultant Lead Economist mentioning the value of this program to Sri Lanka.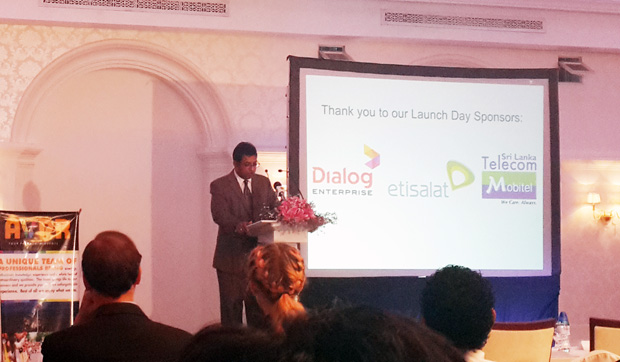 All five startups were presented to the audience with a judging panel comprised of 8 industry professionals.
Rohan Jayaweera, Sri Lanka Country consultant, Google Asia
Udena Wickremaesooriya, Member board of Brandix
Anthony Rodrigo, Group CIO, Dialog
Prabath Gamage, GM, Product Development and Customer Solutions
Prajeeth Balasubramaniam, Founding partner at Lankan Angel Network
Dumindra Ratnayake, CEO, Etisalat
Nissanka Weerasekera, Partner, Aureos Capital
Kasturi Wilson, MD at Hemas Holdings PLC
Team presentations were highly professional and the manner the students presented them was extremely amazing.
Refreshment and networking break was carried out where the gathering was given the opportunity to see live demos of the products and to meet these budding entrepreneurs personally. In the meantime, the gathering was requested to vote for the audience choice award by filling an online form.
Then the session commenced with a speech from Professor Ananda Jayawardhana – Vice Chancellor University of Moratuwa, followed by a few tokens of appreciation to the MIT Team.
Madu Ratnayake – Director & Vice Chairman of SLASSCOM, addressed the gathering on GSL – path ahead in Sri Lanka emphasizing how the Sri Lankan community has been teamed up to take this initiative forward in upcoming years
The most awaited moment, the 'Awards and Recognition' session started with SLASSCOM entrepreneur awards presented as follows by Madu Ratnayake
2nd Runners up – Team WhiteRay for product Careless Droid
1st Runners up -Team BeeHex for product ClicknPick
The Winner – Team HawkEYE for product youth-Jobs.lk
There were three more awards from the launch day co-sponsors Dialog, Etisalat and Mobitel as follows
Dialog Technical Innovation award – Team WhiteRay for product Careless Droid
Mobitel Audience Choice Award – Team WhiteRay for product Careless Droid
Etisalat Social Impact Award – Team HawkEYE for product youth-Jobs.lk
That concluded the MIT GSL 2013 launch day and it is the day these students launch into becoming entrepreneurs. Congratulations to the winners of the MIT GSL 2013 and wish you all the best for all five teams for a successful business in the future.
Do take a look at the new startups and their respective projects  for MIT GSL – Sri Lanka 2013 which are listed below.
VMart.lk by team AquaVision
VMart is a new online platform where any budding entrepreneur can easily set up an online business within 5 to 10 minutes. In that time, any interested seller can sign up, create their own profile, customize and personalize their storefront, upload their first product images and descriptions, and begin receiving online orders.
ClicknPick by team BeeHex Technologies
With the array of its remarkable features of referrals, profile building and gamification ClickNPick is a web application with an Android mobile component which provides a two-way platform for the tutors and students. Tutors can post their expertise whilst interested parents or students can view these details and together with the review/rating scheme, can easily select the best suited for their needs and locations.
For more information please visit www.clicknpick.lk
Modarue by team Zkylark
With ModaRue, the user can find all the new exclusive fashion releases and offers, they can get style recommendations according to their style preferences and also reserve items for a time period until they visit a particular shop. ModaRue also has a designer corner where fashion designers have their own profiles and can reveal their unique talents.
For more information please visit www. modarue.com
CarelessDroid by team WhiteRAY
Phone misplacement and theft has become a growing issue in the society. WhiteRAY solves this problem with "CarelessDROID": an Android application which allows you to connect to your phone via SMS. It doesn't require Wi-Fi or internet connection. The phone owner can send an SMS from any other phone to recover their data or facilitate phone finding.
For more information please visit Google Play Carelessdroid 
YouthJobs.lk by team HawkEYE
The time to sort through onslaughts of poorly-matched CV's in response to your highly selective job postings is over! YouthJobs provides the perfect platform to intelligently filter applicants to your recruitment needs and learn the skills and interests of your potential future employees. For the job seeker, our platform allows you to easily manage your professional profile, construct your CV, find companies that match your skills and interests, and receive career guidance including skills to improve.
For more information please visit www.youthjobs.lk