From the creator of the popular SETT browser (Bhasha) comes a new app Hasun, which enable users to communicate through SMS in Sinhala. This android app lets users type the SMS message in Sinhala through the Helakuru phonetic keyboard. The receiver should also have the app to view the message in Sinhala as the message is delivered in Unicode. (Unless on phones such as Samsung Galaxy S4 where Sinhala unicode is embedded.)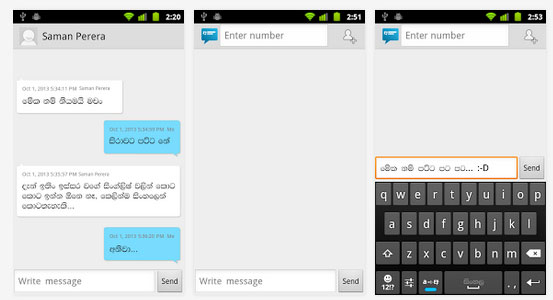 Once installed and ready to compose, you are prompted to download Helakuru if it is not already installed. The interface is nice and simple taking a very minimalistic approach. There is a button in the top right corner to create a new message, and then the content can be written through the phonetic keyboard. Once sent a new thread of the conversation would appear and further messages to/from the receiver would be seen in the thread. There are no inbox/sent/draft folders, only the threaded view to make it simple for the user and consistent with the android messaging experience.
From the Settings you can customize the way you receive SMS globally which is one of its key features. You can configure Hasun to
-receive only messages sent in Sinhala unicode
-receive all messages sent to you (making it your main SMS app)
-for both Hasun and the default messaging app to receive all SMS.
We recommend you keep the settings to one of the first two, as getting the same message in two apps is bit cumbersome if your receiving in large volumes.
For Sinhala SMS messaging there is another app Sinhala SMS from MicroImage which was launched two years back. This app has the issue of dual delivery which degrades the user experience. Bhasha has negated that issue by providing the above options for delivery.
Design wise and functionality wise, Bhasha has delivered with Hasun. Our only concern is that in most cases the receiver requires the android app to view the SMS in Sinhala. However for friends and family this requirement can be easily communicated.
So go ahead and try Hasun here.