INTRODUCTION
Google Calendar is one of the most productive app I have ever used. It may not for you, but with the knowledge of features it has, I'm sure you will use it more often in your day to day activities. In order to get most out of it the first thing you need to do is look at all the smart features it provides. Let's take a look! 🙂
FEATURES
ADDING AN EVENT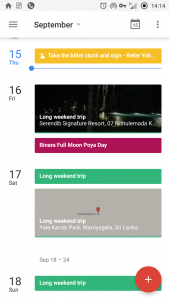 This might sound too novice. Of course you can add events using your Google Calendar App. But there is more to that. You can add the location of your event and add people to the same event. Plus you can invite the same people if you wish to. Also you can control notification alerts according to your requirement. Additionally you can add related attachments from Google Drive too. This is helpful if you have a booking confirmation from a hotel or such like.
GETTING NATIONAL HOLIDAYS
Yes! Now you can get local holidays with Google Calendar App. Never need to run for a physical calendar again. All you have to do is, Open the app >> Click on three stripes >> Go to Settings >> In 'More' section select 'Holidays' >> Add your preferred country. Ex: Sri Lanka. There you go! Now the device will sync with all local holidays including "Poya Days."

GETTING RELIGIOUS HOLIDAYS
If you wand religious Holidays such as: Christian, Jewish,
Muslim, and Orthodox, you can follow the process below.
Open the app >> Click on three stripes >> Go to Settings >> In 'More' section select 'Holidays' >> Add your preferred Religious Holidays.
ADDING REMINDERS WITH GOOGLE KEEP
If you are using Google Keep oftenly, you can set those Google Keep reminders attached to the Google Calendar too. This is a great way to keep up with your reminders. When you go through in your calendar you repeatedly get a chance to see all of your reminders.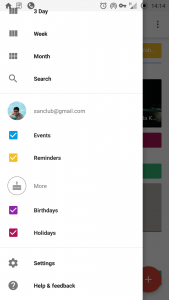 ADDING BIRTHDAYS
You don't need to miss your loved ones birthdays, do you. 😀 You can add birthdays to show on your Google Calendar. These birthdays will automatically sync from your G+ (only from circles) and from your contacts, or you can also manually add if you want. Note that the birthdays are not notified as other reminders or events. You need to have a widget on the home screen or open the app in order to see birthdays.
CONCLUSION
Google is developing everyday. Some of these features were not there when I first used Google Calendar App. In order to keep update with the app, you need to explore yourself. I hope you enjoyed my article. If so, share among your friends to let them know too.
~ Happy Exploring!