In the presence of digitized global context, Information Technology is updating each and every second with novel and advance methodologies and technologies at a significant level. So we have a huge challenge in front of us in connecting the technically empowered world. As a developing nation we have the responsibility of enhancing IT literacy among Sri Lankans.
As much as the Information Technology era has opened up tremendous possibilities and opportunities for enhancing and enriching the knowledge system , making it accessible to people has become a challenge. In society there is a knowledge gap that relates to the unequal distribution of IT knowledge. One reason is the language barrier, because the qualitative learning materials available are in English medium. So there is a requirement to have a standard IT knowledge hub for Sri Lankans. If we can initiate this change, the school students learning ICT in their mother tongue, either Sinhala or Tamil medium will be benefited directly.
The requirement of qualitative and quantitative materials to support learning Information Technology in local languages raised the idea of FIT2School initiated by INTECS-INformation TEChnology Society in Faculty of Information Technology of University of Moratuwa. IT undergraduates of University of Moratuwa, receive many opportunities and sound knowledge from academia to explore the global IT industry. From the beginning the FIT2School concept was dynamically operated as a platform to interact with school students and IT undergraduates to share the theoretical and technical knowledge in Information Technology.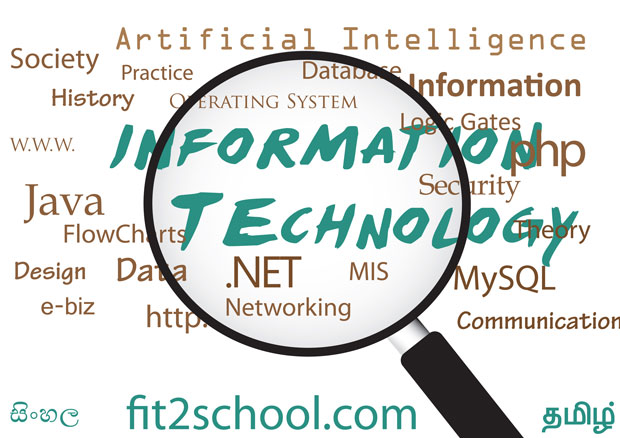 One of the aims of INTECS is to prepare our future generation to be competent leaders in the industry. FIT2School attempts to satisfy the intensive demand for qualitative material required for school students who study in Sinhala or Tamil medium. Focusing on A/L ICT syllabus FIT2School tries to supply number of articles covering major sections of IT as basic concepts, operating systems, digital circuits, networking and security, programming and flow charts, databases, management information systems and modern technologies and trends including the basics of artificial intelligence. FIT2School also comprises of comprehensive articles related to Java, .Net and PHP programming in order to improve the technical skills. Further INTECS is planning to expand the scope into various emerging technologies and innovative research areas of IT.
FIT2School is a noble concept initiated by the early batches of Faculty of Information Technology, University of Moratuwa. The current batches endeavor to present FIT2School as a collaborative effort with the determination of reaching the extremes with the guidance of academic staff including INTECS advisors. FIT2School is an initiative to become a bridge that connects the student to the global IT knowledge because Information Technology is impacting all walks of life all over the world.
The chance of exploring and experiencing the world of IT knowledge is opened to everybody. You can visit FIT2School using link; http://www.fit2school.com . You can always keep in touch with updates of FIT2School on Facebook with https://www.facebook.com/FIT2School.