The ICTA in conjunction with the GovSMS initiative launched a SMS and android based app which lets the user check fish prices in a specific area. The fish prices displayed are the ones announced daily by the Ceylon Fisheries Corporation.
To access the service via SMS user should type cfc prc [fish code] [location] to 1919
Example : cpc prc kel col012
Reply : Price of 1kg Kelewalla/Kilawarayan/Yellowfin Tuna Rs 490 as at 2013-03-03 in Colombo
The android app is simple but delivers the requirement. From the top right hand corner you can select the location, and the relevant fish list with prices will be displayed in the screen as shown in the below image.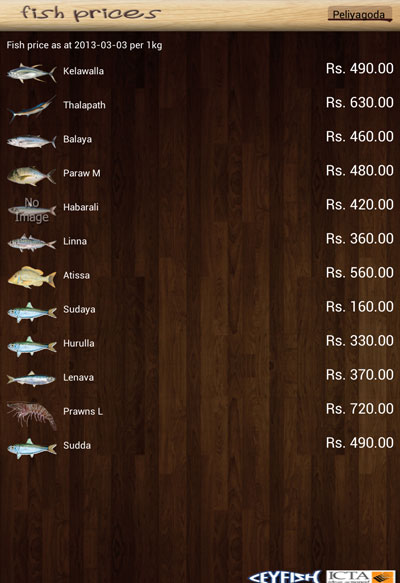 The good thing about this app is that it is available on SMS, catering to the larger market. A future step would be to implement such services on a USSD menu, so that the user doesn't need to remember a lot of codes.