Few months ago Firefox promised that they will make a mobile OS of their own, and two days back Firefox announced that they have released a beta version of the OS and consumers can install it as an add-on for Firefox. This Mozilla's operating system coded named "Boot to Gecko" based on HTML5 web standards which is good news for developers. ZTE, Alcatel and some other vendors have already announced that they are already developing ARM based hardware for this OS. However, I have major doubts on how Mozilla is going to survive from the huge mobile OS war.
Even for Windows Mobile, although their developers are giving their best against Android and Apple, they can't see any big improvements. Recently Newegg said "Windows Mobile phone sales are slow" at the same time Nokia lost $1.27 billion in last 3rd quarter and its sixth quarterly loss for them. This shows just how hard it is for a new OS to break through in to the market. However Mozilla strongly believes in success, according to "the Guardian" website, Director of Research & Development at Mozilla Corporation Andreas Gal recently said "We wanted to break out of the "silos" presented by competitors like iOS, Android, and Windows Phone 7. We think we can change this by doing the same thing we did on the desktop," that's good because more competition means better products for us.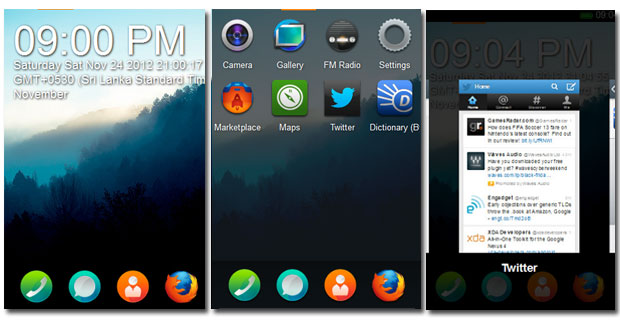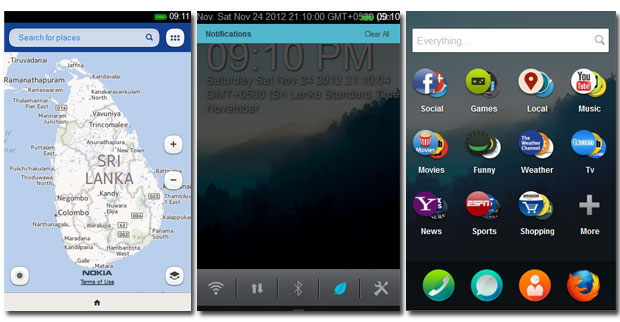 Before writing this article, I experienced the Firefox OS add-on so I can write what I personally think. The first moment I saw the OS I was like what? Is this Android? Yes it's very similar to Android, it has a pull down notification bar where you can see your notifications and your toggle switches. If you long press the home button it will bring up the multi-task menu so you can close them by swiping up. There is no dedicated app drawer so if you swipe left you can see the app icons which already installed. Swiping right brings you the search menu and it's bit similar to iOS search menu. I don't think that's a good idea for Mozilla to have similar features like iOS considering the latest legal battles. Anyway this is not the final version and who knows, the final version may be drastically different. This add-on version of Firefox OS is so sluggish, but no worries because it's still a beta version. Firefox uses the Nokia maps for their map services. I don't know why they chose Nokia Maps instated of Google Maps. This beta version already has a Marketplace built-in. I installed Twitter and it worked pretty nice. I hope we can see more essential apps from Mozilla when it's available for consumers. According to Matthew Key, chair and chief executive of Telefónica Digital, the first Firefox OS based mobile devices will appear in Brazil in 1st Q2013. So next year we can see how it's going to perform against other operating systems giants.
You can check out the Firefox Add on Here