The continuous price fall of Android Smart phones has contributed significantly to the exponential growth of smart phone adoption. Two ssmartphones which one can find priced under Rs. 10,000 are the Dialog i35 and the Micromax Smarty A54.  [Although the Micromax Bolt A27 phone is available at a lower price (Rs. 7990) it does not support 3G which kind of loses the ability to take full use of the apps.]. Both these phones have specs worth for their price. Mobile phone users who are migrating from a simple feature phone to a low cost smartphone would definitely consider them.
So, which one is better? Below is a quick comparison on the specs of these phones and the price.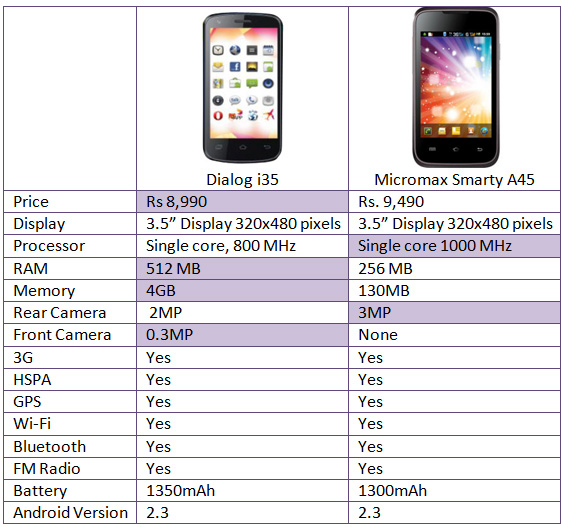 The Dialog i35 leads in Price, RAM, Internal Memory, and Front Camera, while the Micromax does better on the Processor and rear camera. There is nothing much to separate, but we can say the Dialog i35 is slightly ahead considering that RAM and internal memory are key to the user experience.
Hopefully in the future we would be able to see more Smart phones available (specially the samsung and sony branded) in this below Rs. 10,000 category.