Most of us take this lightly but it is the store where the photos you take are stored temporarily until you download it to your computer.
There are many kinds of cards Compact Flash (CF), Sony Memory stick (MS), Multimedia Card.  Thankfully most manufacturers of digital camera a have now standardized on Secure Digital (SD) Cards.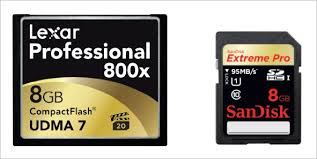 SD card is small about 24mm x 21mm and about 1 mm thick.  Weight is about 2 gms.  It comes in different storage capacities starting from 64MB to 128 GB.  Most photographers including wedding and event photographers use either 8GB or 16GB cards.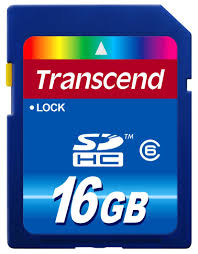 These cards are relatively inexpensive starting from less than Rs 1,000 for a 2 GB card.  The card is monitored by SD Association www.sdcard.org and comes in many speeds and forms.
Micro SD cards used in cell and smart phones measeure which are used in most cell phones and smartphones, measure 15mm by 11mm by 1 mm (HWD) and weighing only half a gram.
There are three kinds of SD cards SD, SDHC and SDXC.  These are for cards as well as for devices.  Older digital cameras can take only SD cards and many cannot support SDXC.
There is also the speed class ranging from Class 2 to Class 10.  Most compact cameras will work very well with Class 4 but for serious work go for Class 10 which is recommended for DSLRs. Class 4 cards offer write speeds up to 15 MB per second, Class 6 20 MB per second and class 10 40MB per second.  Then there is UHS-1 cards offering higher speeds but are meant for specialist work.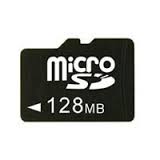 Manufacturers  offer different write speeds for their special cards.
Micro SD cards could be used in cameras using an adapters.  I have had an experience with these cards malfunctioning during shooting and I would not recommend these for any photography using a DSLR although they are great for your smartphone.
In conclusion I like to refer you to WIFI and FlashAir cards which creates a Local Area Network.  When you use your camera you can immediately see the photo in your Smartphone iPad, Laptop or PC which is really fun and productive.