Back in 2012 Samsung overtook "Nokia" the mobile leader for 14 years. And Samsung announced best profits in that year too. Since 2008 Samsung has allocated a lot of money for mobile research and development. From that year they have gained mobile share, quarter by quarter and year by year till 2012.  Yep,  since 2012 to the present year Samsung is not doing well. For that there are so many reasons behind it. Some say their Android Touchwiz is too complicated and laggy, so much bloatware, (so much replica phones it's my personal thought) etc etc. But I think Samsung has understood the consumer needs and problems and recently they have promised they will remove every unwanted software and that they will polish the OS for better user experience.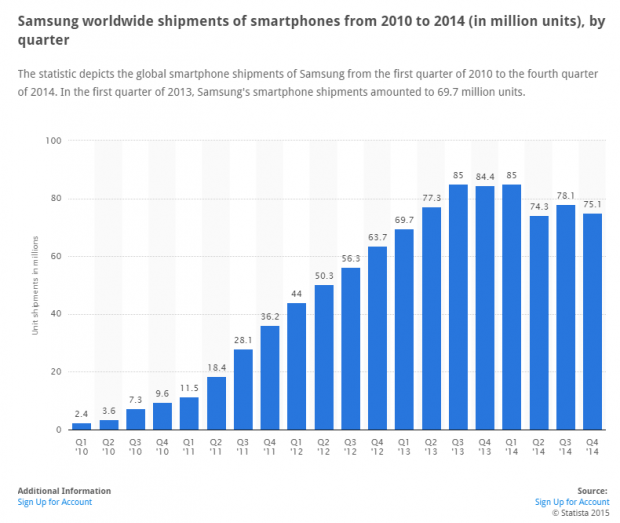 Few days back Samsung has announced their flagship Android phone Galaxy S6 and Galaxy S6 Edge at Mobile World Congress. It's a totally redesigned phone, Samsung has finally got rid of manufacturing most of the mobile parts from plastic and they have started manufacturing with glass and the metal. So here is the spec walk through for both Galaxy S6 and S6 Edge just scroll down to see.
Samsung galaxy S6 features a 5.1 inch Super AMOLED screen with 2560 X 1440 (577PPI) resolution. According to Gsmarena it has little over 70% screen to body ratio, only 7mm in thickness, Corning Gorilla Glass 4 on both sides which protects the phone from scratching, 32GB, 64GB, 128GB internal storage ( no SD card slot this time), 3GB RAM for better multitasking, comes with latest Android OS Lollipop 5.02, 16 Megapixel rear camera and 5 Megapixel front camera and 2550mAh battery.
As you can see those specs are really up-to date and can fight against other vendors, but let me talk about the SoC which powered the S6 and S6 Edge. This is the place where Samsung is way ahead when comparing to others. Since the release of the Galaxy S2, Galaxy devices are powered by Samsung's own SoC called Exynos. Samsung Galaxy S6 and S6 Edge are powered by Exynos 7420 which is a octa core processor with big.LITTLE concept, it has 4 X A57 64bit cores at 2.1GHz and 4 X A53 efficient 64bit cores running at 1.5GHz. The important thing about this SoC is that it's manufactured under 14nm fabrication process. Just for your reference the lower the nm number means it has more processing power and it's more efficient. For e.g. the world's leading SoC manufacturer's Snapdragon 810 64bit SoC is fabricated under 20nm process. As you can see, Samsung clearly has the edge for the processing power and efficiently. Another thing I should mention about this SoC are the GPU and RAM. It's powered by ARM Mali-T760 MP8 ( eight GPU cores running at 772MHz which is a really powerful GPU it can run anything you throw at it) and 1552MHz LPDDR4 RAM.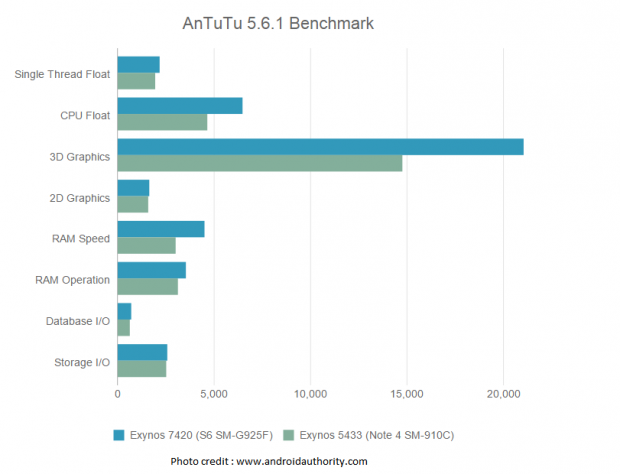 Let's move on to Galaxy S6 Edge, this flagship device have double side curved display. Samsung has specially designed their TouchWiz Android software to take advantage on those curved edge. I personally love that design, specially with both side curved  and not the single curved Galaxy Note Edge design. I watched the MKBHD's (Youtube tech gadget reviewer) Galaxy S6 Edge first impression video, and he mentioned that those curved edges are nice and the Lollipop material designed app's swipe from the cover feature works beautifully. Other than that this phone has really similar features to S6. Same processor, same RAM and the same 16 Megapixel camera. Only the battery is a bit bigger, where the S6 Edge has a 2600mAh capacity battery.
Now we can clearly see Samsung moving in-to big change. They really want to catch back on their mobile market share and they want to fight back with the other big vendors like Apple and  Xiaomi phones.