It's great to see many hackathons are being organized all across Sri Lanka, and thought it's a good time to write a simple guide to explain the essentials of a hackathon before organizing one.
I've been involved in organizing 5 hackathons and currently progressing to organize a global hack. "Scrumagize" was my very first hackathon to organize back in 2012 where it was a 12 hour hack organized for NIBM students.
Hackathon? WTH?
Hackathons are happening all across the world and some firms conduct it as a business. If you have never heard what a hackathon is, simply it's an event which brings down developers / tech evangelists / hardware folks together and create a product / a software / a mobile app or some cool gadget within 12 / 14 / 16 / 18 / 24 / 36 / 48 / 72 hours at a stretch (There are hacks which does not adhere 'at a stretch' criteria). End of the hack, teams will present their ideas to a set of judges or investors and get a prize, money / some cool tech gadget or get funded. Teams who do not become the winner, would end up getting a recommendation letter / certificate of appreciation. It is always a good habit to update your linkedin profile mentioning that you participated or won in hackathons.
There are different versions of hackathons. Make-a-thon is one of those where it essentially focus on a hardware component as well.
Best part of every hackathon is the free food, fun activities + probably redbull coming on board as the beverage partner + the redbull wing team 😉 This is true for every hackathon across the globe.
Conducting a hackathon boils down to the organizers end goals. Before starting off organizing a hackathon, do have max of 1-5 objectives.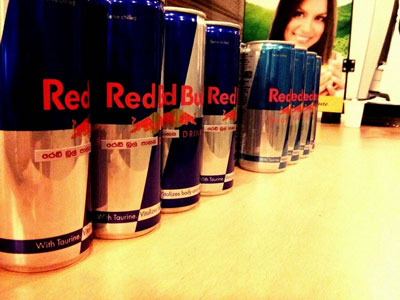 Image Credits : Charith De Silva
Hackathon Matrix v1.0
Hackathon matrix is a collection of basic elements of a complete hackathon. Human needs and expectations are evolving every single day and that's why it's v1.0.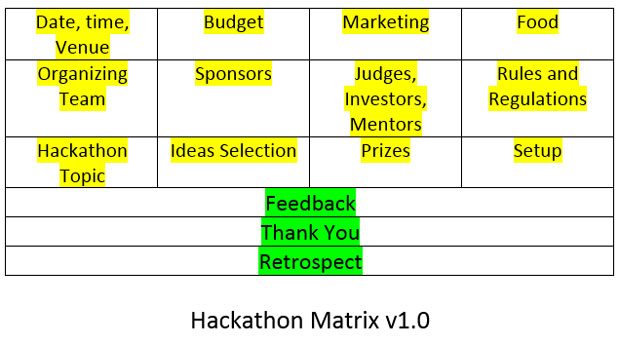 The blocks which has yellow highlighted texts are the basic elements of pre-hackathon. The blocks with green texts  are the post-hackathon elements.
Let's quickly run through each element.
Date, Time and Venue 
First thing, identify the target audience. Eg – Global, All Island, university, school…etc. This is important to identify the date. Because if the hackathon is during exams or a festival season, the number of responses you get will go down rapidly. Also it's a good practice to allocate the days during weekends (Eg – Starts on Friday eve and will end in Sunday morning max). Simultaneously look for a venue which is available on proposed dates plus should be within your budgets if it's not free. Time can range from a 12 hour hack to a 72 hour hack.
Selecting date, time and venue are mutually exclusive parameters. You might find a hard time coming to a conclusion so do it at least 2 months before the hackathon.
Budget 
A super important element. Do create a resources list and see what you will get for free, where do you have to buy stuff / rent and how much you have / you will be able to raise. Sometimes you might get a chance to sell the goods you bought or rent it for another event.
Organizing Team 
Having a great team whom can be accountable and whom can take responsibilities seriously and who have ability to accomplish them on time is crucial. Create a work breakdown and delegate the work among team members, setup a deadline and follow-up. If you come across a situation where you will have to do their work, that means there is a skills gap in your team or a problem in your work breakdown.
Hackathon Topic 
There are hackathons with topics and without topics (TechCrunch Disrupt). It's up to you to decide if you want to have a topic or not. Both types has its pros and cons.
Marketing 
Marketing or  we can rephrase it as "Taking the word out" so the people will apply to the hackathon. This needs to happen at least 2 weeks prior to the ideas selection date. Dont worry if you have a lower number of submissions. Just increase/ change the methods of marketing + we developers love to apply at 11:59 P.M.
Have the marketing materials, media partnerships, proof read of write ups…etc is pretty important. If you are a Sri Lankan, you can invite ReadMe or TechWire to become your official digital media partner so they shall cover live blogging to event pictures to articles. ReadMe boys are doing a great job in this part of the world. No matter if its Jaffna or down south, they will do an complete neat job.
Publish the hackathon in websites such as  hackerleague , hackathonwatch and tag @hackathonwatch in twitter so you can give a global awareness for your hackathon. It is good if you can live stream the event, but this needs to be only the most important parts of the hackathon because no one wants to watch a bunch people coding overnight. If its in Sri Lanka you can invite LearnTV. They will cover and live stream for free (T&C Apply).
Pick a official photographer. This is good for your future hackathons.
Sponsors  
There are firms willing to sponsor hackathon events. Make sure you reach out to them before their budgets are over. Usually budgets are over in final quarter (Oct – Dec). Do keep in mind to give sponsors promised publicity.
Setup
Two types of setup. One is you need to setup a place to submit ideas. You can setup a new website or use a web application similar to Hackathon.io where visibility of submitted ideas can be controlled.
Hackathon can be physically attended or virtual. The second type of setup is this. If it's physically attended you need to make sure proper seating arrangements, fun activity areas, tables, power cables, internet connectivity, ventilation, food arrangements, clean venue, washrooms…etc is arranged.
If it's a virtual hackathon you dont need to worry about the physical infra and what you need to worry is how the teams are connected, how you are going to check their progress (Eg – Using Github commits) , final presentations, code reviews, judging…etc.
Rules and Regulations 
Setting up some rules and regulations is important. It again depends on the type of your hackathon. Eg – All the code needs to be done at the event, code review at the end of the event, need to bring deodorant and tooth brushes…etc.
Ideas Selection
Filtering the ideas and getting the best ideas to come and hack would truly save you some money, time, energy and you can potentially focus on a few teams rather than a larger number, which is effective. Having teams from 10 – 15 would be ideal. But again this depends on your end motive of the hackathon.
Food
You need to make it unlimited and easily accessible. Famous Sri Lankan meals are Kottu, hoppers or pizza.
Prizes
It either can be a cash prize, cool gadget or funding.
Dialog Ideamart hackathon gave 100k, 75k and 50k cash prize, WSO2 hackathon gave 4 go pro + vouchers to a hotel while Yarl Geek Challenge 3 gave funding for the winner in collaboration with Blue Ocean Ventures in 2014.
Judges, Mentors and Investors
Contact and invite these parties at least 3 weeks prior to the event. Mentors are optional but according to my opinion, having business and tech mentors would sharpen the idea more. If your hackathon ends up by an investor pitching, you need to invite some angel investors. If it's in Sri Lanka, contact Lankan Angel Network or Blue Ocean Ventures. These investors are pretty much helpful.
Feedback
Get feedback from every single party who was involved in the whole process.
Thank You
Thank everyone who helped by any means, send them some pictures of the hackathon. Honest appreciation can make a difference and its an emotional hook.
Retrospect 
Conducting a retrospect meeting and analyzing the feedback would allow you to identify what you did best, what needs to be improved and how you can improve the next hackathon. Its because near perfection comes from iterations and acting upon filtered useful feedback.
Final Remarks 
Hackathons are types of events which could leapfrog the current skills of both organizers and participants. The end result depends on the motives of the organizers. There can be tangible outcomes or not. Most hackathons around the world end up with the winners getting funded by investors for their start ups. According to my point of view, hackathons needs to be introduced to the university / school curriculum as well as for every company IT division. This is because a hackathon is a tool to improve skills and knowledge, create awareness, be a team building exercise, be a sporting event and  be an event which can potentially improve company products.
Please provide your feedback/ comments/ thoughts/ experience sharing or suggestions about organizing a hackathon.
All the green lights are on for you to organize your next hackathon. Good Luck