Do you know why Silicon Valley of the United States is one of the most important areas in the world? And did you ever think is there any Sri Lankan who plays a major role in Silicon Valley?  Silicon Valley is a nickname for the southern portion of the San Francisco Bay area and it is the high-tech dominated area of the world.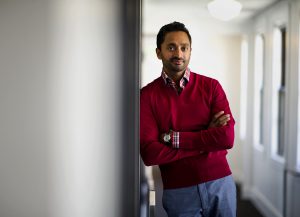 Chamath Palihapitiya is listed as a one of the coolest people who matter most in Silicon Valley. He is  a highly-successful entrepreneur  who was born in Sri Lanka. Within the high-tech community, he is known as a sharp investor and executive. At his age of six, he  moved to Canada with his family. In 1999, he graduated from the University of Waterloo with a First-Class Honors degree in Electrical Engineering and moved to California in 2000. Then he joined AOL and became the youngest VP in AOL's history at the age of 26.
He has worked in several companies and he was a member of Facebook's senior management team as well. He served in various roles during his four-year stint at Facebook and he was was a major force in the launch and the incredible growth of Facebook, but he quit his job at Facebook in 2011. Within the high-tech community, he's known as a sharp investor and executive who made it big when Facebook went public.
Chamath Palihapitiya  as a venture capitalist
After quitting Facebook, he started his own fund called Social+Capital Partnership.  In 2015, the firm changed its name to Social Capital. Chamath Palihapitiya is the founder and CEO of investment firm: Social Capital. The firm has stood out strategically, with a focus on technology in financial services and education, health care and on software as a service. Social Capital started investing in health and education when those fields were being largely neglected by other venture capitalists.
He launched a new "blank-check" company in partnership with the London-based venture capitalist  firm named Social Capital Hedosophia Holdings Corp. This company is formed for the purpose of entering into share exchange, asset acquisition, stock purchase, reorganization or similar business combination with one or more businesses. Recently they announced the pricing of its initial public offering. And they  listed  60,000,000 units at a price of $10.00 per unit on the New York Stock Exchange. After listed  their shares on the stock exchange on  last Wednesday(17/09/13)  it went up to 3.5% in the first half of next day.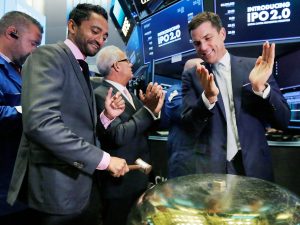 This new "blank-check" company doesn't have any products or customers. And also it doesn't own anything yet. But initial shares of the company  were up that much because shareholders trust the strategies of  Chamath Palihapitiya. The company plans to buy stakes in private tech companies. They will buy  from minority stakes to controlling interests to full ownership.
He achieved all these because of his unflagging dedication and he will become one of the billionaires in the world near future.